Suite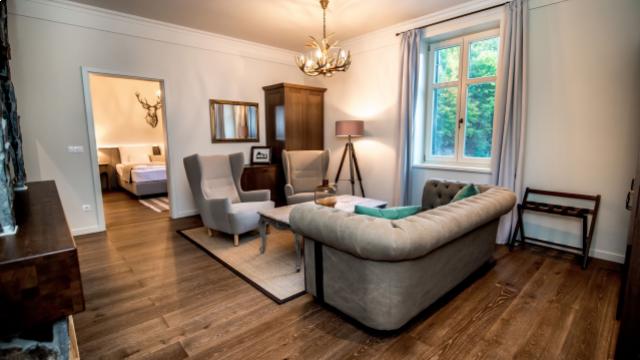 The suites of our Castle Resort in Újhuta consist of a living room, two bedrooms with attached bathrooms. The windows of the rooms offer an astonishing view of the castle garden, the lake in the garden and the surrounding forest.
This type of room provides comfortable accommodation for the whole family. They can spend a few days relaxing in suites with modern and elegant furnishing. In some of our rooms there is a reading area by the window, where it is a really pleasant pastime to watch nature in the company of an exciting book or to do urgent work.
There is a spacious wardrobe and a large flat screen television in the common living room and in each of the bedrooms. The temperature can be individually controlled in the entire suite, and the bathrooms are spacious, equipped with a bidet in addition to the semi-open shower wall and toilet.
In addition, a cosy fireplace, bedside LED lighting, minibar, Wi-Fi, anti-allergenic pillows and duvets, large and smalls towels, bathrobes and a hair dryer contribute to the perfect feeling of comfort.
Bed sizes:
bedroom: queen bed (180*200 cm)
bedroom: 2 simple bed (90*200 cm)
EQUIPMENT
• individually adjustable climate system
• large flat screen televisions
• Wi-Fi
• minibar
• viewing fireplace
• spacious wardrobes
• anti-allergenic pillows and duvets
• small and large towels
• bathrobes
• hair dryer (1800 W)
• suitcase racks
• cosmetic mirror
• high-quality shower gel and shampoo (natural ingredients, not tested on animals)
All hotel services can be paid for with the Széchenyi Recreation Card (OTP, MKB and K&H).
Tourist tax cannot be paid with SZÉP card.