The Castle Resort's present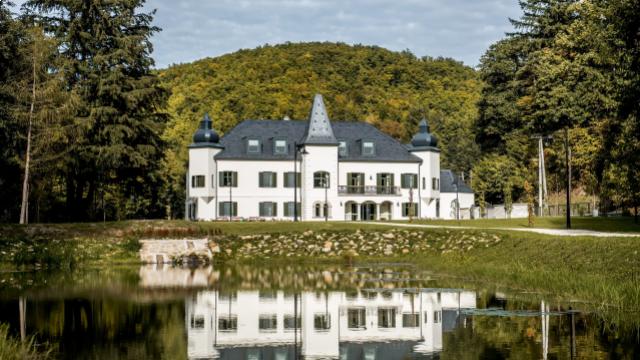 Since the end of October 2018, Újhuta Castle Resort has been welcoming its guests who would like to escape from the hustle and bustle of everyday life and the noise of the city. The castle is located in the Zemplén Landscape Protection District, therefore, the closeness of nature can be felt continuously during the days spent relaxing.
The reconstruction and expansion of the Bretzeinheim-Waldbott Castle and its subsequent conversion into a Castle Resort began in 2016, and from the very beginning the primary goal was to restore it to its original condition. Although the renovation often encountered difficulties, it was still possible to preserve several original elements of the hunting castle (e.g.: foundation stones, the iron railing bordering the balcony of the middle suite).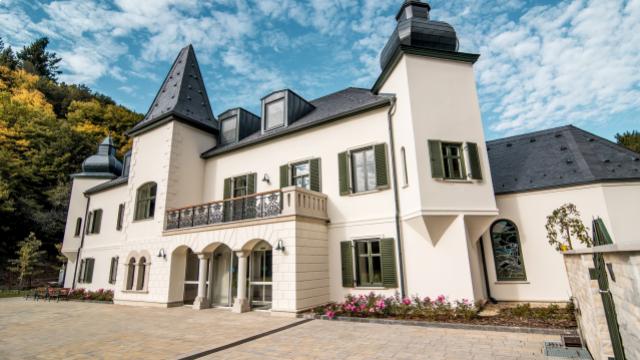 Visitors arriving to the valley can spot the castle standing out from the woods from afar, as its towers, white-painted walls and green shutters offer an imposing sight. In front of the Újhuta Castle Resort, there is a cosy little park which is suitable for a short walk, during which our guests can breathe in fresh air, listen to the wonderful singing of birds and the tiny little sounds of nature. The path strewn with small pebbles leads to a fish pond and then to the bridge over the gurgling Tolcsva stream.
The Castle Resort is suitable for accommodating a total of 48 persons. It consists of 3 four-person suites, 7 double standard rooms, 11 double loft rooms. Our guests can use our wellness section free of charge, which consists of a 120 cm deep, heated pool and a spacious Finnish sauna, complete with atmospheric light elements and a starry sky. In addition, massaging experience elements have also been installed in our pool. During relaxation you can enjoy a wonderful view of the Huta Forest through the huge windows of the pool area.
Our restaurant is open to external guests as well. When compiling the menu, our chef has paid special attention to fish and game, several of such dishes have been added to the menu. Families arriving with their children can select from the dishes specially made for them. Our kitchen uses many local ingredients; we prepare traditional dishes with modern technology and reinterpret their serving.
Together with the entire staff of the Castle, our aim is to make your vacation even more memorable with attentive and kind service of the staff. Visit us and experience for yourself the retreating rejuvenation provided by our Castle Resort!